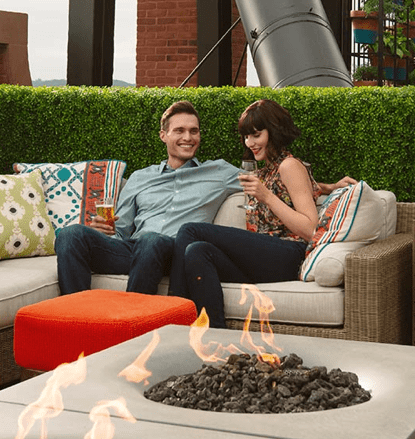 Bienvenue!
Welcome to the
Charmant
The Charmant Hotel captures the unique beauty of La Crosse. The hotel's exquisitely renovated rooms, originally built in 1898 to house the FUNKE Candy Factory, invite guests to relax and enjoy their stay in grand style. As the only boutique hotel in La Crosse, visitors are warmly welcomed by our team's appreciation for true Midwest hospitality. The Charmant Hotel boasts a lively open-concept restaurant, brick-clad bar, rooftop deck, and café. Visitors can readily explore the park system lining the nearby Mississippi River or downtown La Crosse with its charming shops.
Our Story
Such a touch of class

"We LOVED our time at the Charmant, it was perfectly charming and wonderful. We were celebrating our 35th Wedding Anniversary (the second time we have come here at Christmas to celebrate our anniversary). We absolutely felt so taken care of down to the sweet card that the waitress had created to congratulate us on our anniversary (sealed in wax with the "C" for Charmant) such a touch of class, elegance and warm welcome all rolled into one!…Thank you to the Charmant for their exquisite staff."

RitaZ

I recommend it highly

"The Charmant is a lovely hotel in downtown La Crosse, close to the park and walking trail along the Mississippi River. Staff are friendly and helpful in every way, and it reminds me of the way that classy hotels of the past worked, with valet parking available and a lovely dining room. I recommend it highly and would definitely stay there again."

Nomad37941093633

We highly recommend

"The Charmant Hotel was incredible from the moment we arrived until we checked out. The Valet, Front Desk Associates, Hotel bar, Restaurant Dining, and Cleaning Associates were nothing short of superb! We were made to feel special, and we will definitely go back. We highly recommend."

Rhonda R
Events
An elegant backdrop for your next social occasion
The Charmant Hotel's welcoming atmosphere, premium amenities, and personalized service make it an ideal location for a variety of events, including corporate gatherings, sit-down meals, and standing receptions.
READ MORE
Meetings
An elevated space for corporate gatherings, board meetings, and more.
Arrange your next corporate gathering in one of our elevated meeting spaces, offering premium amenities and up-to-date technologies to make your time as seamless and productive as possible.
READ MORE
Offers

Long Stay, Long Play

Whether you're seeking to relax or embark on a full day's adventure, don't cut yourself short and make time to conquer it all – book three nights or more midweek (Sunday-Thursday) to receive up to 20% off your stay.